How To Build A Grill Station
I was so excited to partner with the Home Depot to tackle this project we've been wanting to do for so long! I started researching how to build a grill station an all kinds of things came up. One issue that I ran into was most plans I came across were for a gas grill and we wanted to do a grill station with a charcoal grill. I also really wondered what type of material people build the frame with. There's an option of getting a pre fabricated metal frame made.  That's going to be more expensive but is a great option.  I thought there's no way people use wood, right? But as I started to do more research I saw that people (DIYers and some pros I came across) do use wood to do the frame as well, it just has to be covered with a fire resistant material. We decided to use Hardiebacker cement boards. According to the manufacturer, it will not ignite when exposed to direct flame or contribute fuel to a fire, heat will transfer through them. Because of this, the product itself is not 1-hour fire rated. However, they do qualify for use in certain 1-hour fire rated Warnock Hersey and UL assemblies. Think of it as a pan used for cooking. The pan can be directly exposed to a stove's flame and not burn, yet the food in the pan will cook in time. Having an interior wallboard that resists burning for 1-hour buys time for the homeowner and fire professionals.
That said, we felt comfortable using it. We would never walk away from food grilling for a prolonged period of time so God forbid a fire broke out, we'd prayerfully be able to extinguish it in a timely manner. Really praying that is something we never have to deal with though lol.  But that said, please do YOUR OWN research to do this project the way you're most comfortable with and that is the safest. 
*Also, please note, with how we did our grill station, the grill can easily be lifted out of the station. 
So let's get into it….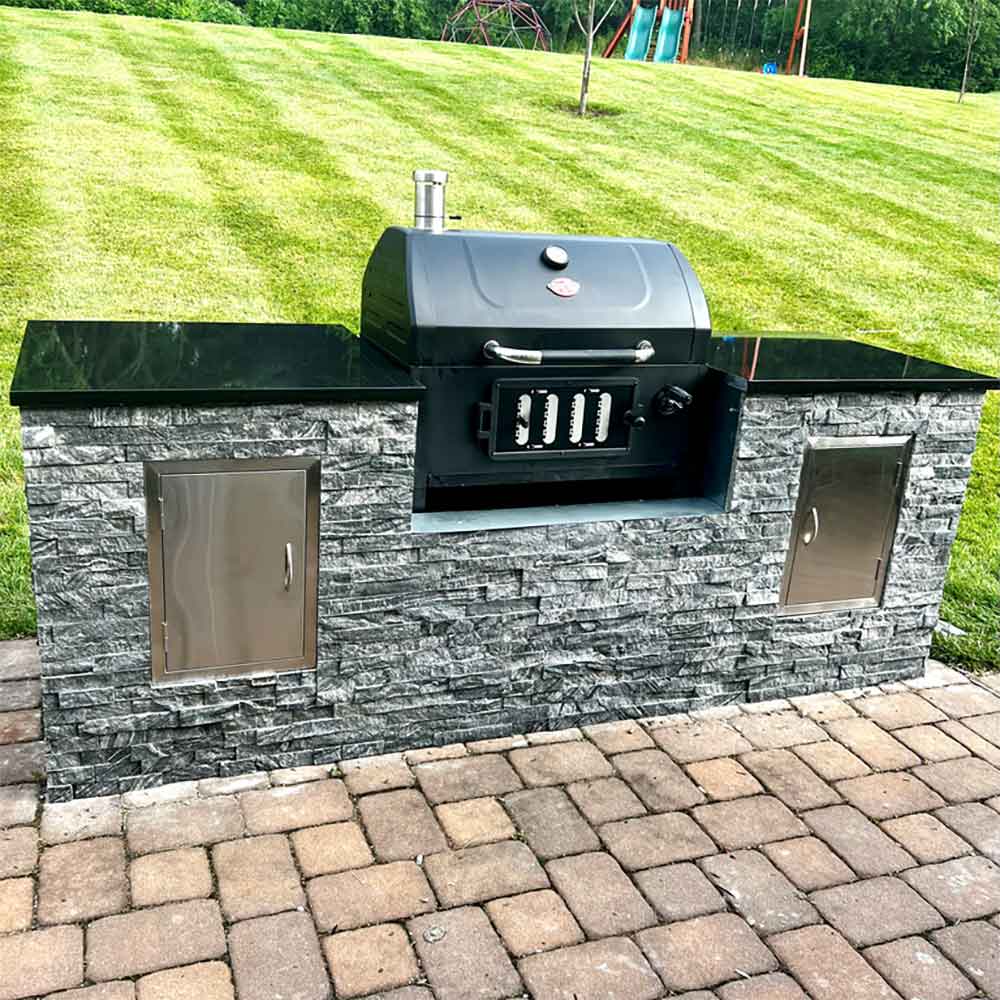 Step 1: Build The Frame
We used 4x4s and 2x4s to do this. The specific measurements will vary based on the size you want your station to be.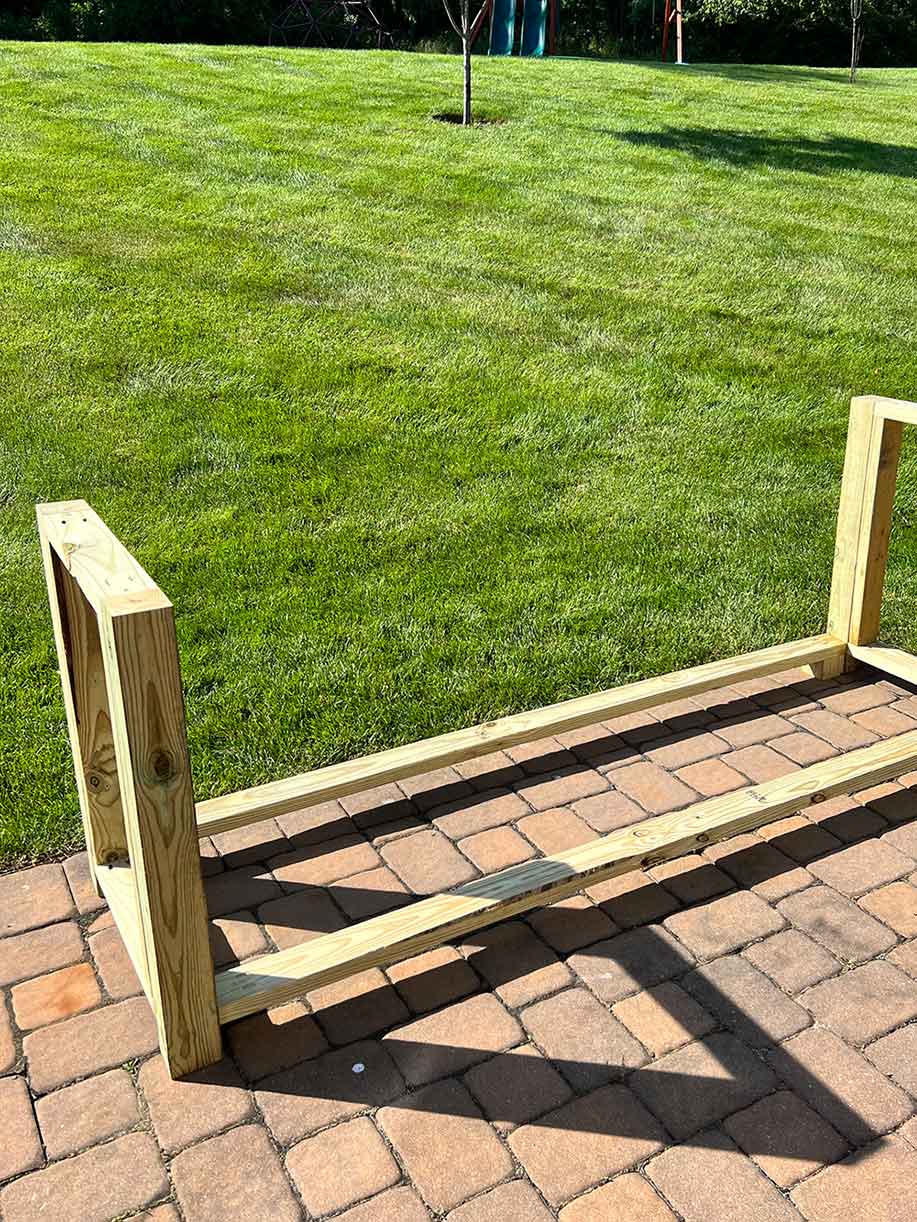 Step 2: Add Additional Support
We wanted our Char Grill to fit in the center so we framed it out with a middle opening. We added additional 2x4s based on the size we wanted each wing to be.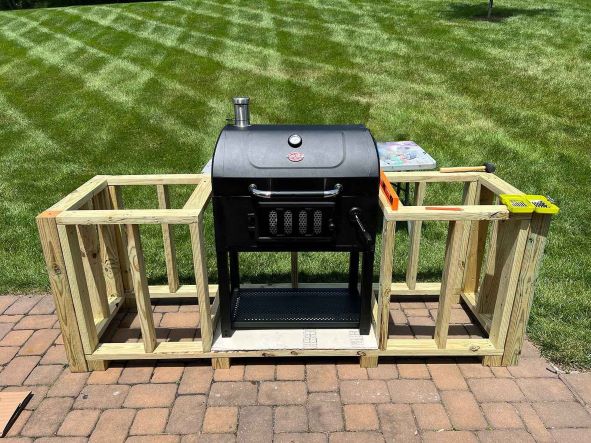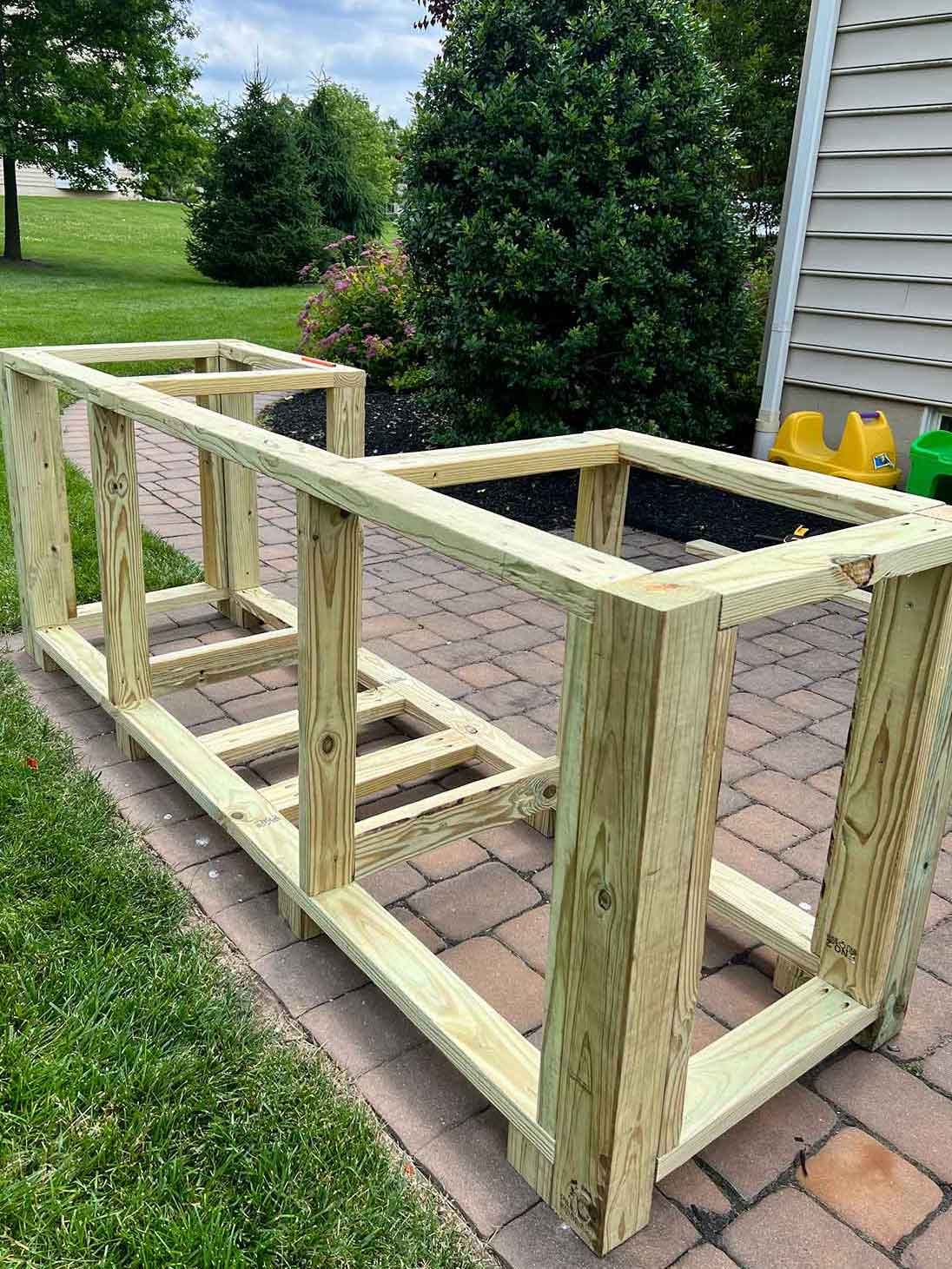 Step 3: Cut Cement Board To Cover Frame
We cut the cement board to size and attached to the wood frame using cement screws. Originally, we planned to do double doors in the middle under the grill so we covered each side with cement board, but we decided to do 2 – single doors instead. So we had to take the boards off.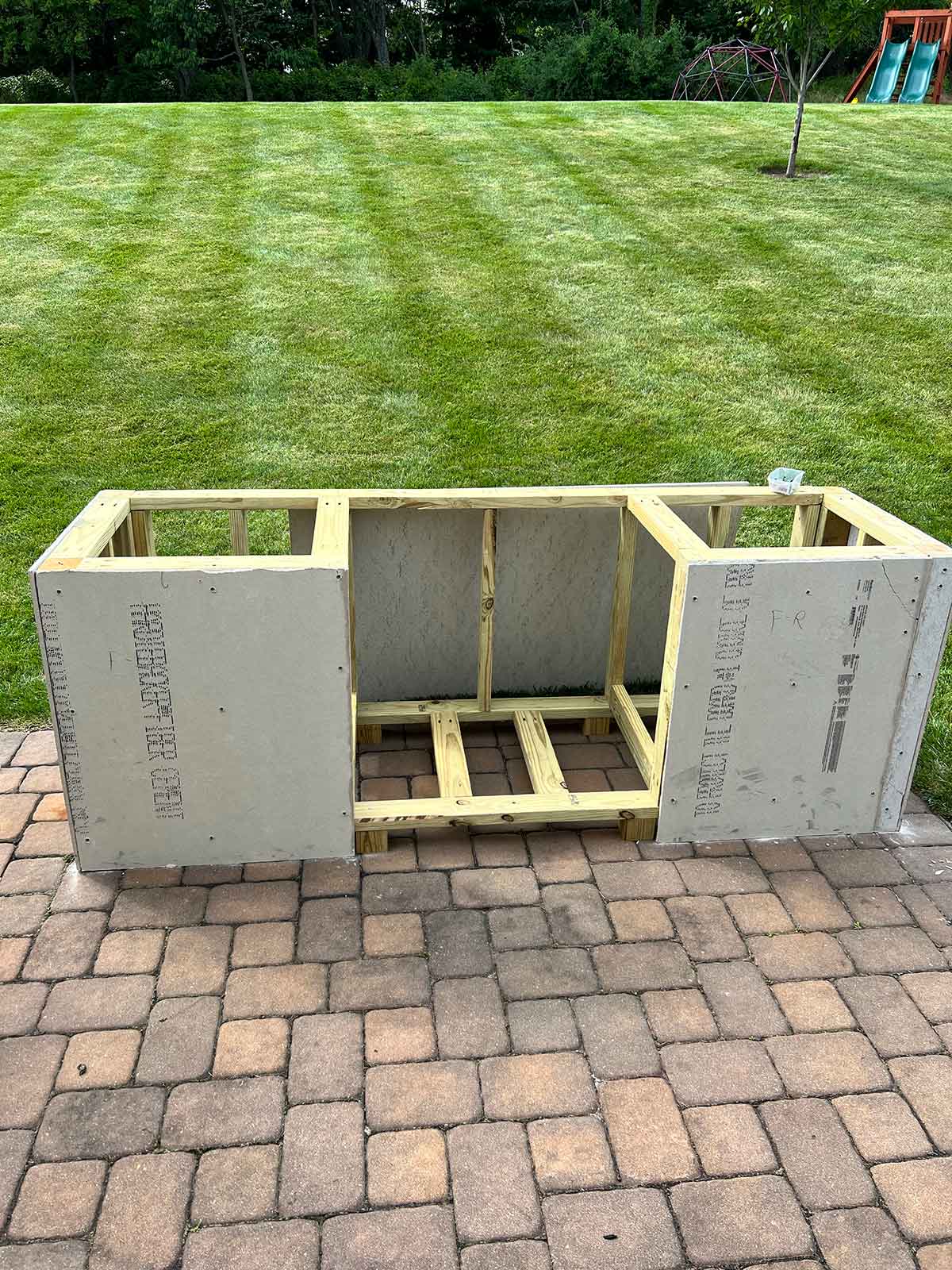 This is how it looked when the boards were removed.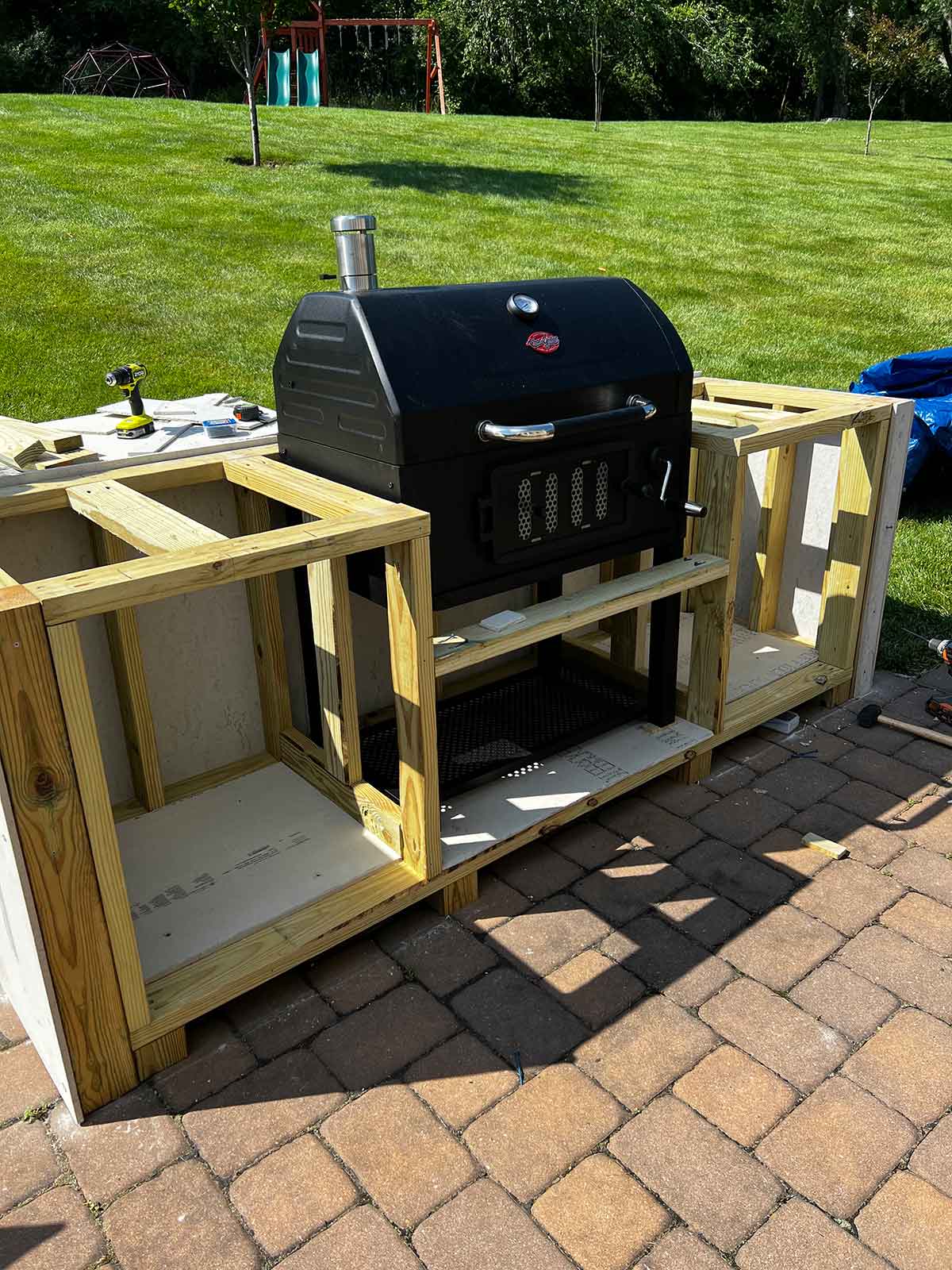 Step 4: Frame Out Opening For Grill Doors
Since we decided to do 2 single doors, we had to frame out the opening for the grill doors. The cut out size will be listed on whatever doors you choose. Ours are 14×20" (cut out size 11 5/8″ w x 17 5/8″ h). We used 2x4s to create the frame on each side then added cement board over those areas.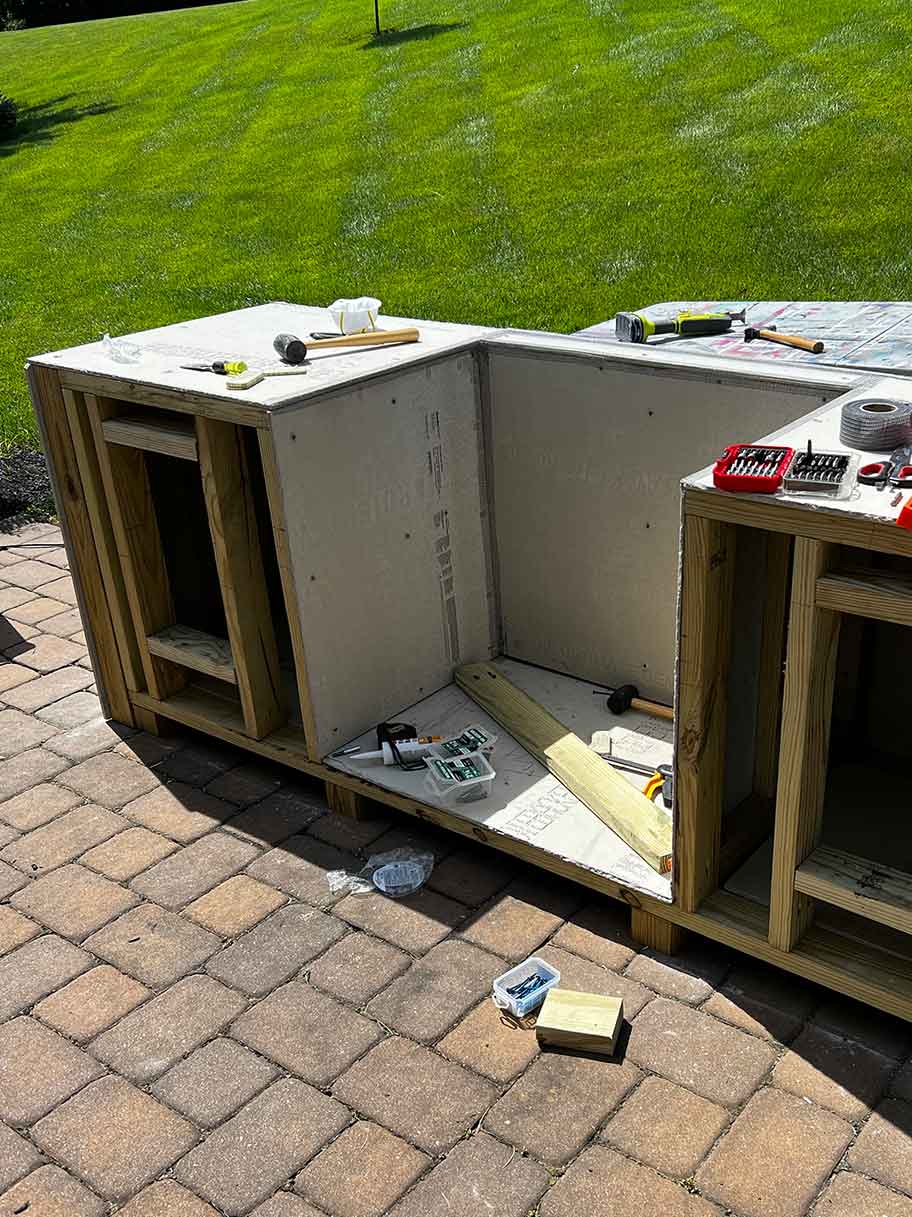 Once the framing and cement boards were in place , we added the doors. 
Step 5: Add Fire Barrier Plus Latex Sealant To The Exposed Seams
We added this sealant to all the open seams on the interior where the grill would be installed.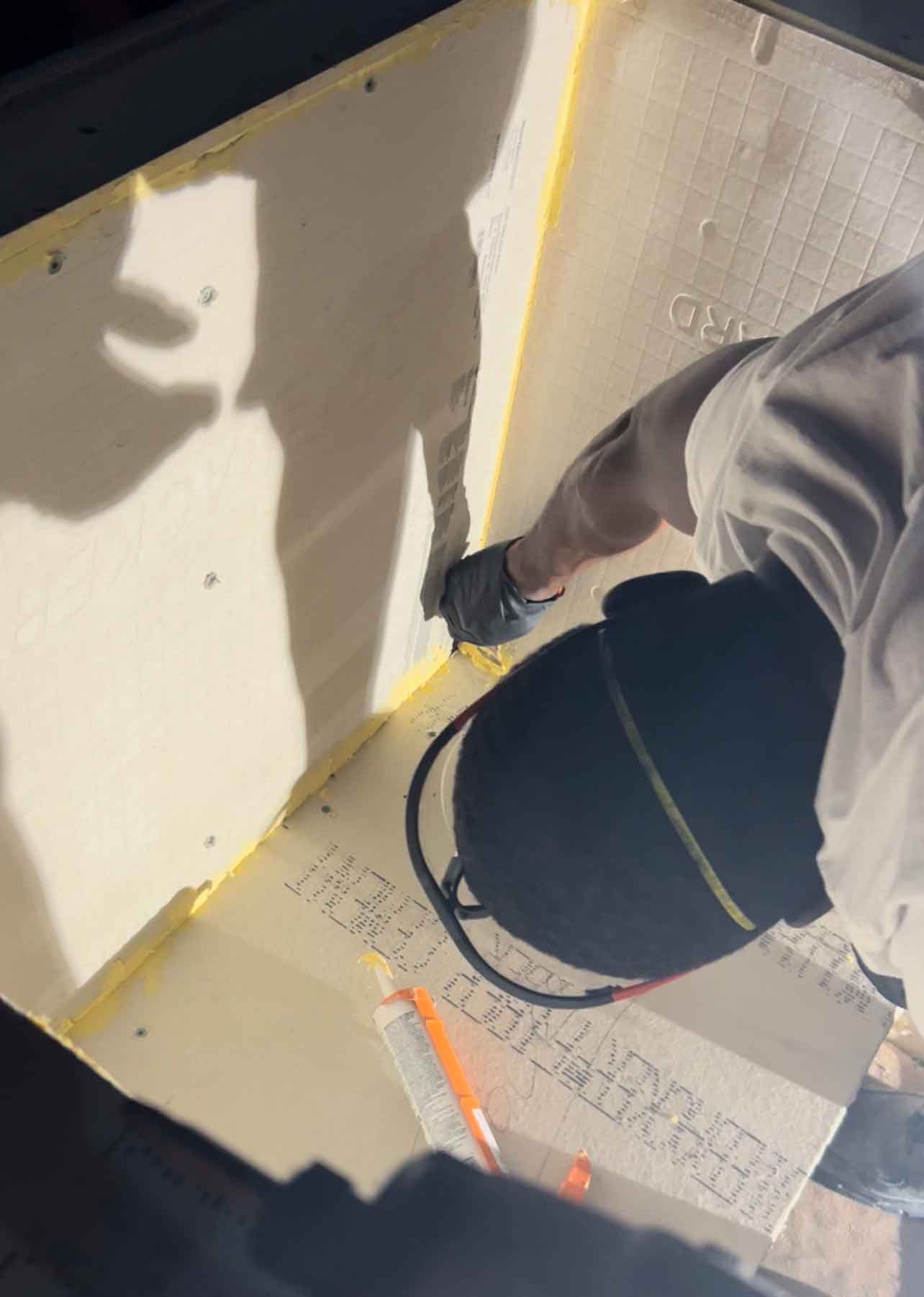 Step 6: Add Galvanized Stainless Steel Sheets To The Middle Grill Area
We wanted to cover the inside middle area with stone, but it didn't allow enough room in grill area for that to work. We decided to use galvanized stainless steel sheets that we cut with tin snips. The sheets are very sharp so make sure you wear your gloves! We secured them with self piercing roofing screws.
Step 7: Add Cement Board Tape Over Joints And Corners
We used cement board tape to cover all the seams, then added thin-set mortar over it. Next is to let it dry .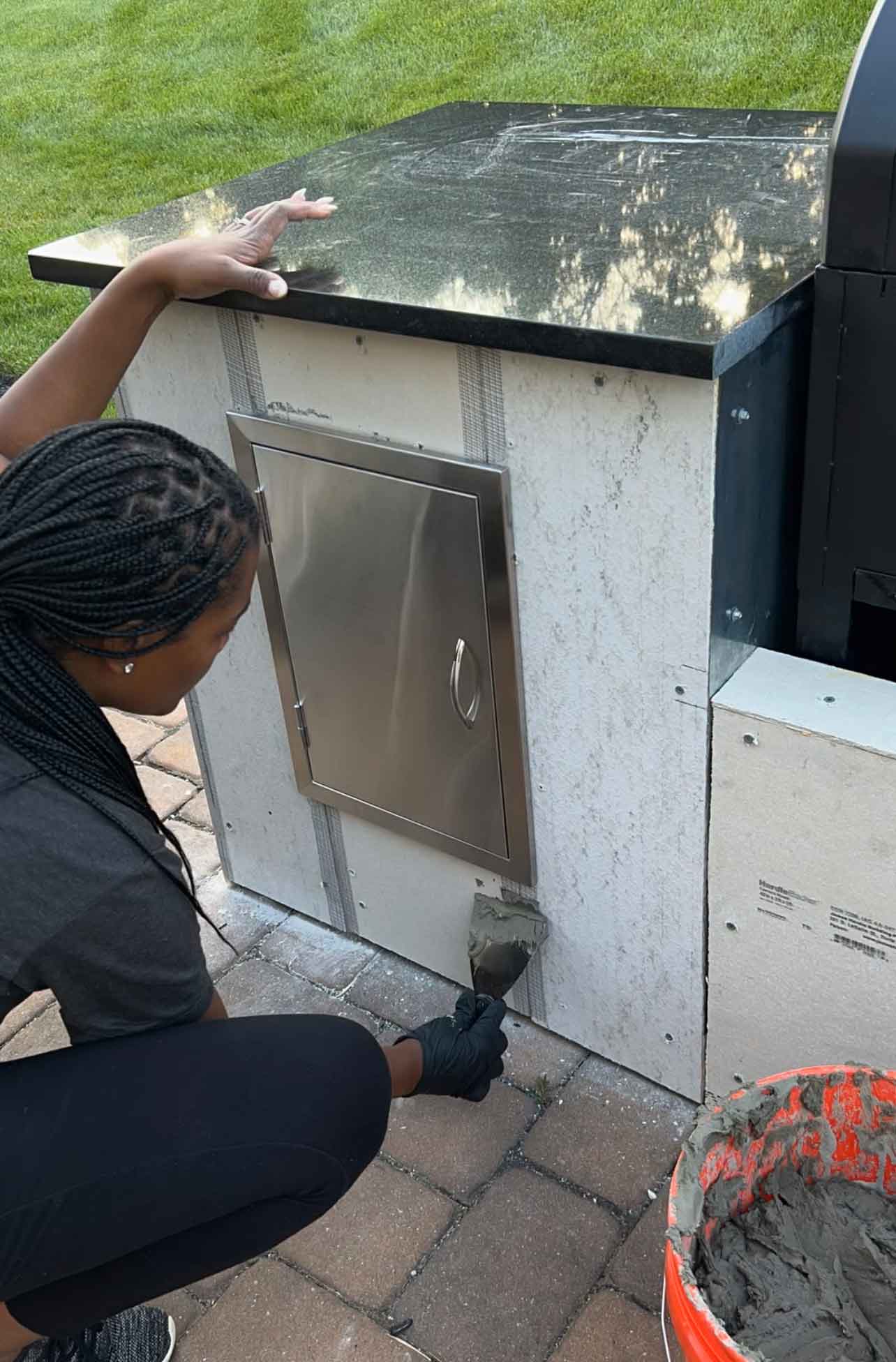 Step 8: Set Out Your Stones And Set Up Wet Saw
We took ledger stones out box and laid them out to get an idea of how they will look. Then, we set up our wet saw to make cuts. We cut straight edges on all the corner pieces to start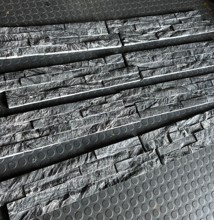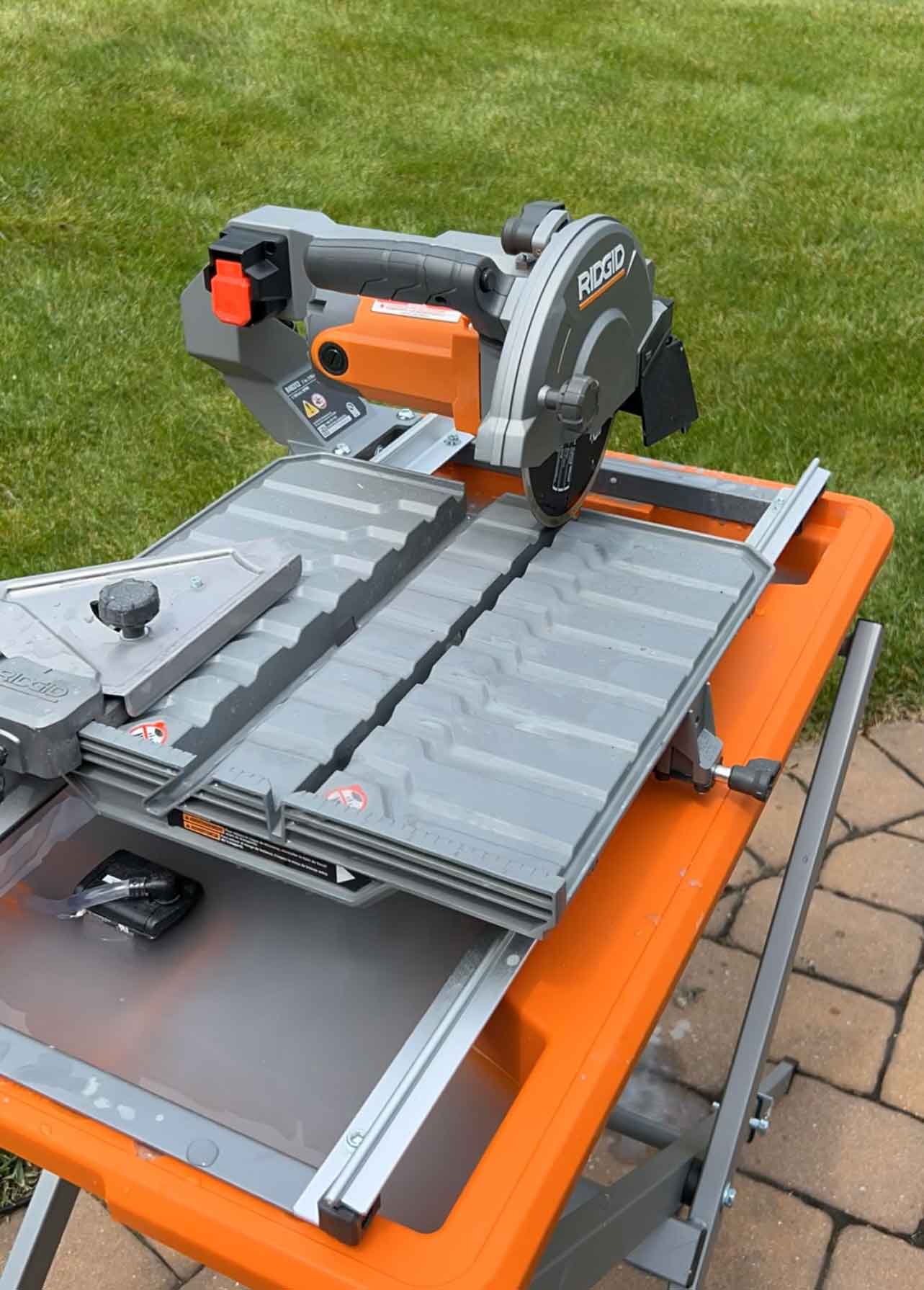 Step 9: Mix Thin-Set Mortar And Tile
We used Pro Lite 30 lb Gray Tile and Stone Mortar and a steel trowel (1/2"x1/2"x1/2") and joint knife to apply the stone to the cement boards all around. We started from the bottom and made sure everything was level then worked our way up.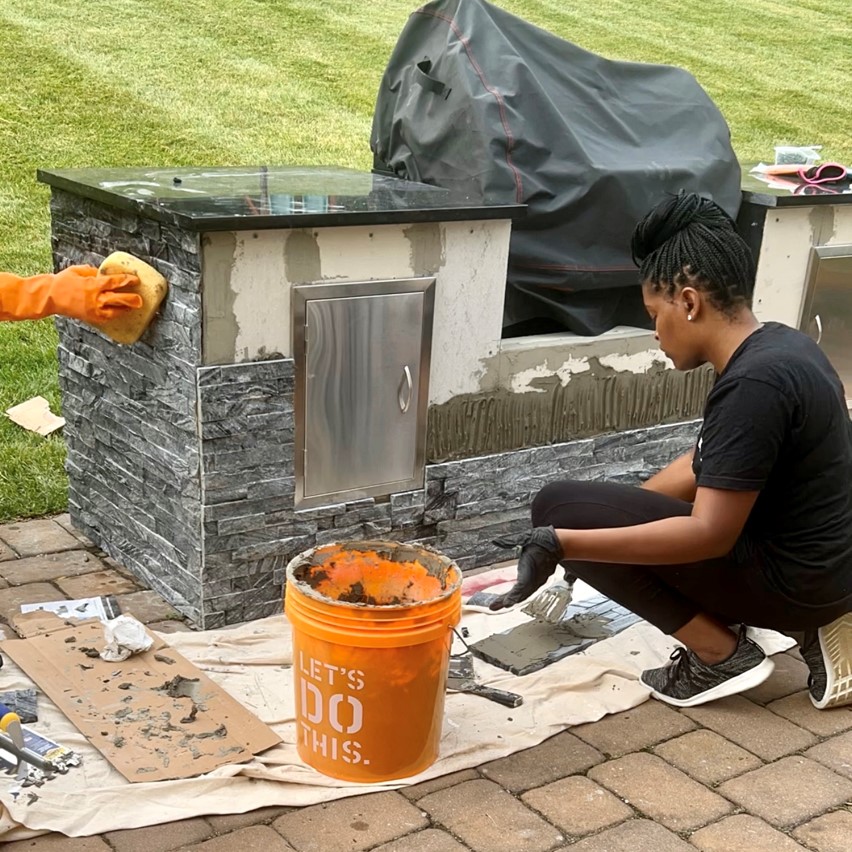 Step 10: Seal Stone (Optional) And Step Back And Admire Your Work
We love the way it turned out! Can't wait to use it all summer!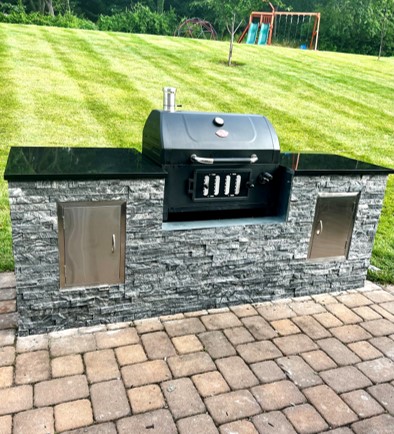 Shop this Project

9 Amp Corded 7 In. Wet Tile Saw With Stand

Classic Charcoal Grill In Black

Glacial Black Ledger Panel 6 In. X 24 In. Natural Marble Wall Tile (10 Cases / 60 Sq. Ft. / Pallet)

ProLite 30 Lb. Gray Tile And Stone Mortar

#12 X 3/4 In. Hex Head Zinc Plated Sheet Metal Screw (50-Pack)

30 In. X 24 In. 26-Gauge Zinc-Plated Sheet Metal

36 In. X 48 In. Galvanized-Steel Flat Sheet

10.1 Fl. Oz. Yellow Fire Barrier Plus Latex Sealant

FibaTape Alkali-Resistant 2 In. X 150 Ft. Self-Adhesive Cement Board Tape

HardieBacker 3 Ft. X 5 Ft. X 1/4 In. Cement Backerboard

HardieBacker 3 Ft. X 5 Ft. X 0.42 In. Cement Backerboard

#9 X 1-1/4 In. Serrated Flat Head Star Drive Cement Board Screws (750-Pack)

#8 X 2-1/2 In. Square Blue Ceramic Plated Steel Washer Head Pocket Hole Screws (50-Pack)

4 In. X 4 In. X 8 Ft. #2 Ground Contact Pressure-Treated Southern Yellow Pine Timber